Do Google Reviews Help SEO
Oct 19, 2018
Marketing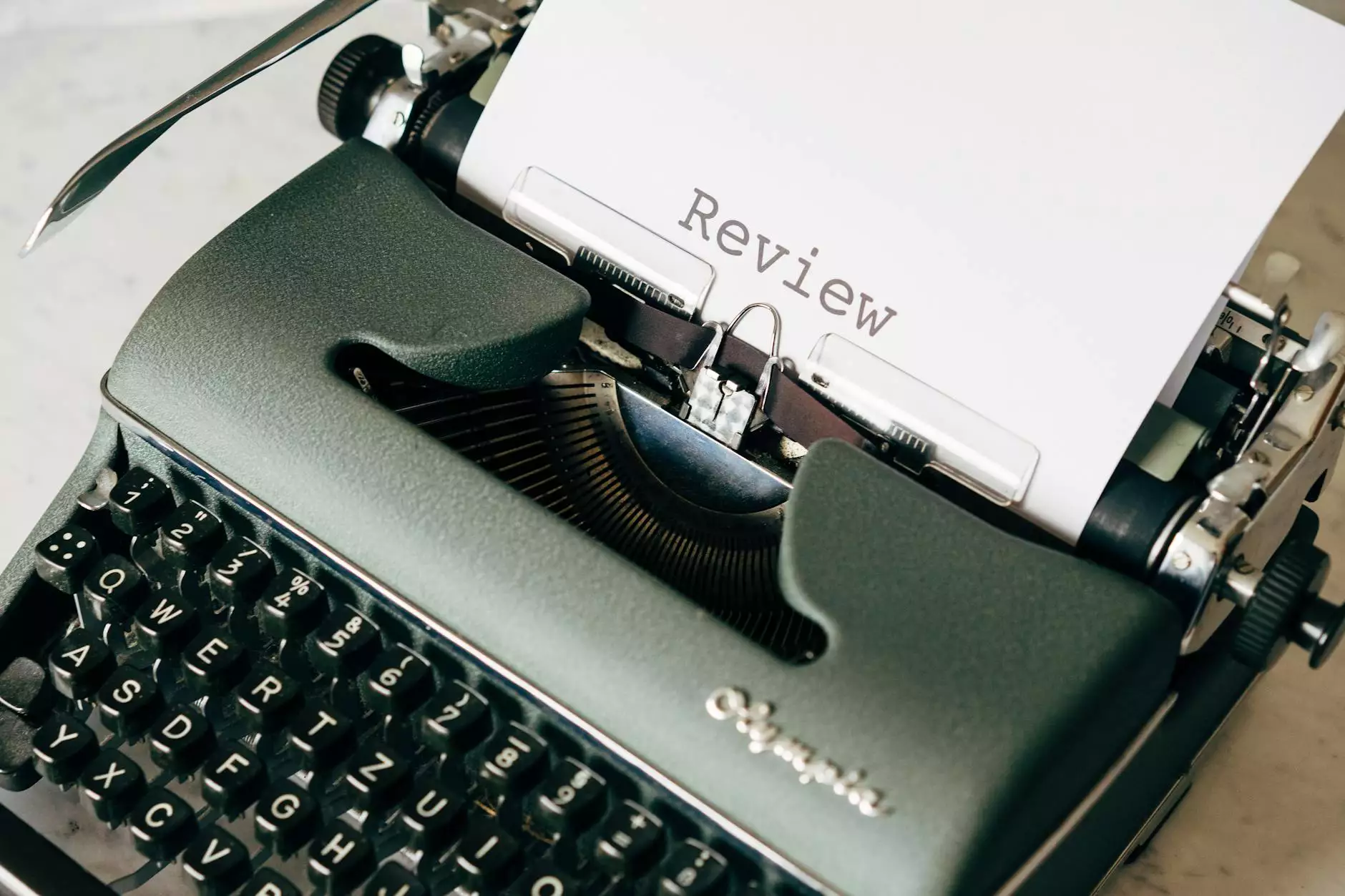 Introduction
As a leading provider of Business and Consumer Services - Website development, OVYS Digital Presence and Web Design understands the critical importance of search engine optimization (SEO) in today's digital landscape. In this article, we will explore the role of Google reviews in improving SEO and how they can positively impact your website's online visibility.
Google reviews have become a powerful tool in influencing consumer decision-making and showcasing the reputation and credibility of businesses. With an increasing number of people relying on online reviews to make informed choices, it is essential to understand the impact of Google reviews on your website's organic rankings and overall online presence.
The Importance of Google Reviews for SEO
Customer feedback plays a vital role in SEO, and Google reviews are a valuable source of user-generated content that can significantly impact your website's search engine rankings. Here are several reasons why Google reviews are crucial for SEO:
1. Trust and Credibility
Positive Google reviews build trust and credibility with potential customers. When users see a high number of positive reviews about your business, they are more likely to trust your products or services. This enhanced trust can ultimately lead to higher conversion rates and improved organic rankings on Google.
2. Keyword-rich Content
Google reviews provide an opportunity for customers to share their experiences and opinions using relevant keywords. This valuable user-generated content can help improve your website's visibility for specific search terms. By incorporating relevant keywords into your reviews, you can increase the chances of your website ranking higher on Google's search results pages.
3. Increased Click-through Rates
By displaying Google reviews alongside your website in search engine results, you can significantly improve your click-through rates. Users are more likely to click on search results that feature star ratings and review snippets, as they provide additional information and social proof of your business's quality. Increased click-through rates can positively impact your website's organic rankings over time.
4. Local SEO Benefits
For businesses targeting local customers, Google reviews are particularly valuable. Google takes reviews into consideration when determining local search rankings. Positive reviews can help your business appear in the coveted "Local Pack" section of search results, which prominently displays businesses that Google believes are relevant and trustworthy to local users.
Best Practices for Google Reviews
To fully harness the SEO benefits of Google reviews, it is essential to follow these best practices:
1. Encourage Customers to Leave Reviews
Actively encourage your customers to leave reviews on your Google My Business page. Whether through email campaigns, social media promotions, or in-person requests, make it easy for satisfied customers to share their experiences. Remember, the more reviews you have, the more positive impact they can have on your website's SEO.
2. Respond to Reviews
Show that you value customer feedback by responding to both positive and negative reviews. Addressing customer concerns and thanking them for their positive feedback demonstrates your commitment to excellent customer service. Engaging with reviews also encourages future customers to leave their own feedback, further boosting your SEO efforts.
3. Monitor and Manage Reviews
Regularly monitor your Google reviews and address any issues promptly. Be proactive in resolving customer complaints or negative experiences. By actively managing your reviews, you can maintain a positive online reputation and mitigate any potential SEO impact from negative feedback.
In Conclusion
In today's competitive digital landscape, Google reviews are a valuable tool for enhancing your website's SEO. By leveraging the power of customer feedback, you can build trust, improve click-through rates, and boost your website's visibility on Google. Implementing best practices for managing and encouraging reviews can significantly impact your organic rankings and ultimately drive more traffic to your website.
At OVYS Digital Presence and Web Design, we understand the importance of Google reviews in your overall SEO strategy. Contact us today to learn more about how we can optimize your online presence and help your business stand out in the digital realm.