6 Ways Marketing and Accounting Overlap
Feb 23, 2022
Marketing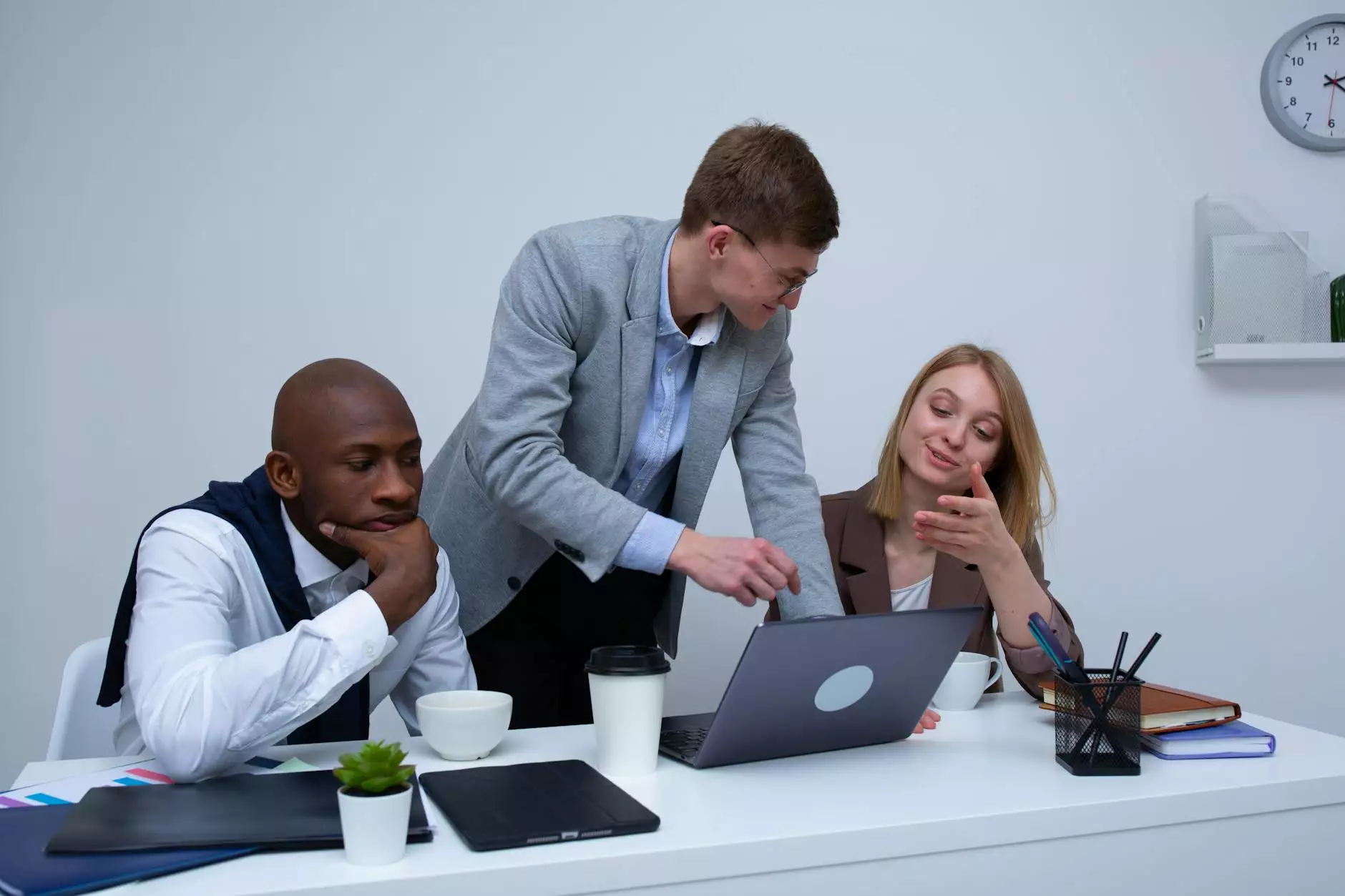 The Synergy Between Marketing and Accounting
In the ever-evolving landscape of business and consumer services, it is essential for companies to recognize the intricate relationship between marketing and accounting. While these two disciplines may seem different at first glance, they share common goals and interests that create a powerful synergy when aligned effectively.
1. Budgeting for Marketing Campaigns
One of the primary areas where marketing and accounting overlap is in budgeting. To execute successful marketing campaigns, it is crucial to allocate financial resources efficiently. Accountants play a pivotal role in analyzing financial data, providing insights on available budgets, and determining the most optimal investment for marketing initiatives. By collaborating closely with accountants, the marketing team can make informed decisions and ensure that funds are allocated effectively.
1.1 Analyzing Marketing Expenses
Accountants provide invaluable support to marketing teams by meticulously tracking and analyzing marketing expenses. This detailed analysis helps identify areas of overspending or potential cost-saving opportunities. For example, accountants can examine advertising costs across different platforms and evaluate the return on investment (ROI) for each channel. Such insights empower marketers to refine their strategies and reallocate resources where they yield the highest ROI.
1.2 Forecasting Revenue and Profits
Accurate revenue and profit forecasting are essential for marketing planning and decision-making. Accountants utilize historical financial data and industry trends to project future revenue and profits. These forecasts form the foundation for marketing budgeting, allowing the marketing team to align their campaign objectives with realistic financial goals. Together, marketers and accountants can optimize budget allocation and target their efforts towards the most lucrative opportunities.
2. Performance Measurement and ROI Analysis
Marketing and accounting collaborate closely in the critical area of performance measurement and Return on Investment (ROI) analysis. Marketers strive to evaluate the effectiveness of their campaigns and determine the ROI generated from various marketing activities. Accountants help by providing accurate financial data and calculating key performance indicators (KPIs) such as customer acquisition cost, customer lifetime value, and conversion rates. Armed with this information, marketers can make data-driven decisions to refine their strategies and maximize ROI.
2.1 Financial Metrics for Marketing Performance
Accounting professionals assist marketers in identifying and tracking key financial metrics relevant to marketing performance. These metrics may include total revenue, gross profit, net profit, and cost per lead. By analyzing these metrics, marketers gain insights into the financial health of their marketing campaigns and can make necessary adjustments to increase their profitability.
2.2 Integration of Data Analytics
With the emergence of data analytics tools, marketing departments can leverage advanced analytics techniques to measure the impact of their campaigns accurately. Accountants play a pivotal role in integrating these tools with financial systems, ensuring the accuracy and reliability of the data. By combining financial and marketing data, companies gain a comprehensive view of their overall performance and can make data-driven decisions to optimize marketing activities.
3. Tax Implications of Marketing Expenses
Marketing activities often involve various expenses that may have tax implications. Accountants possess the expertise to navigate the complex world of tax regulations and guide marketers on effectively managing tax obligations. By understanding the tax implications of different marketing expenditures, accountants can help companies minimize tax liabilities and maximize the tax benefits of their marketing initiatives.
3.1 Deductibility of Marketing Costs
Accountants ensure that marketing costs are properly classified and recorded for tax purposes. They collaborate with marketers to determine which expenses are deductible, such as advertising expenses or promotional giveaways, while ensuring compliance with tax laws. Their expertise in tax planning allows businesses to optimize their marketing strategies while keeping their tax obligations in check.
3.2 Identifying Tax Credits and Incentives
Accountants can also uncover potential tax credits and incentives that are specific to marketing activities. For instance, some jurisdictions offer tax credits for research and development expenses related to marketing innovation. By identifying and leveraging these incentives, companies can further enhance the financial gains of their marketing efforts.
4. Financial Reporting and Compliance
Marketing campaigns generate financial transactions that need to be accurately recorded and reported. Accountants play a crucial role in ensuring compliance with financial reporting standards and regulations. They collaborate with marketing teams to understand the nature of transactions generated by campaigns and ensure the appropriate accounting treatment.
4.1 Proper Revenue Recognition
Accounting experts are responsible for ensuring that revenue generated from marketing activities is recognized correctly. Different marketing campaigns may have specific revenue recognition rules depending on the business model and contractual obligations. Accountants work closely with marketers to establish revenue recognition policies that align with accounting principles and regulations.
4.2 Auditing and Internal Controls
Accountants assist in designing and implementing robust internal controls related to marketing expenditures. These controls ensure that marketing expenses are authorized, incurred for valid business purposes, and properly recorded. Furthermore, accountants also support both internal and external audits, providing necessary documentation and addressing any financial inquiries related to marketing campaigns.
5. Business Performance Evaluation
Marketing and accounting share the common goal of evaluating business performance. While marketing focuses on assessing the impact of campaigns on brand awareness and customer acquisition, accounting focuses on the financial health of the business. Collaborating in this area enables a comprehensive evaluation of the company's overall performance.
5.1 Monitoring Key Performance Indicators (KPIs)
Accountants assist marketing teams in monitoring crucial financial KPIs, such as gross margin, return on investment, and cash flow. These metrics provide valuable insights into the financial success of marketing campaigns and help identify areas for improvement or potential risks. By working together, marketing and accounting teams can evaluate the holistic performance of the business and identify growth opportunities.
5.2 Aligning Marketing Objectives with Financial Goals
By collaborating closely, marketers and accountants can ensure that marketing objectives align with the overall financial goals of the company. This alignment ensures that marketing initiatives contribute to the overall profitability and growth of the business. Regular communication and cooperation between departments enable a comprehensive evaluation of marketing activities, leading to informed decision-making and increased business success.
6. Leveraging Technology for Optimization
In today's digital age, both marketing and accounting departments leverage advanced technological tools to optimize their respective processes. By embracing technology, the synergy between marketing and accounting can be further enhanced, fostering data-driven decision-making and improving efficiency.
6.1 Data Integration and Automation
Technology allows for seamless integration of marketing and accounting data, enabling real-time insights and deeper analysis. Automated processes and software solutions streamline data collection, analysis, and reporting, reducing manual errors and saving time. The integration of marketing automation tools with accounting systems ensures accurate financial data and facilitates easy collaboration between teams.
6.2 Predictive Analytics and Forecasting
Advanced technologies, such as predictive analytics and machine learning, empower marketers and accountants to forecast future trends and business outcomes accurately. Predictive models can analyze historical marketing and financial data to provide actionable insights and help optimize marketing strategies. By embracing these technologies, companies can gain a competitive edge by anticipating market trends and making proactive business decisions.
Conclusion
The convergence of marketing and accounting is undeniable, especially in the business and consumer services industry. The close collaboration between these two disciplines ensures efficient budgeting, accurate performance measurement, compliance, and evaluation. By recognizing and leveraging the six ways marketing and accounting overlap, companies can unlock the full potential of their website development strategies. At OVYS Digital Presence and Web Design, we understand the importance of this synergy and offer comprehensive solutions tailored to optimize your marketing and accounting efforts. Contact us today to take your business to new heights!